Happy New Year! It's 2018, it's a new year, which only means one very important thing: NEW BOOKS!!!
I've set a few reading challenges for 2018:
Read at 50 books — I did surpass that number in 2017 and I hope to do so again, in all honesty, I hope to read 100 books, but that's a lot of pressure and I don't want to put that on myself the first day of the new year.
Read more inclusively and diversely –— About 80% of the books I read last year were written and/or illustrated by women and about 76% were written and/or created by a person of colour. I want to do even better this year, reading more books written by women of colour and more books written by or about LGBTQ individuals.
I've got my eye on a number of books coming out in the first six months of 2018 and I cannot wait for them to be published!
Truly Devious – Maureen Johnson [Jan 6, 2018]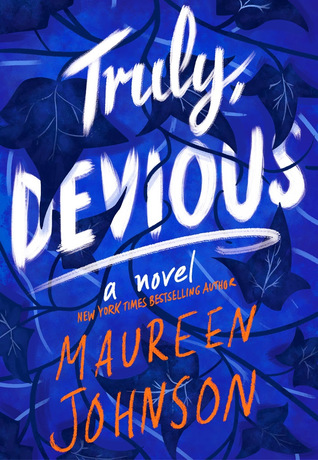 A tale of murder and mystery, a cold case, a famous private school, a story that moves between two different timelines, and a brilliant true-crime aficionado investigator? Sign me up! Stevie Bell is set to begin her first year at Ellingham Academy and she's got a plan to solve one of America's most famous cold cases.
I do love a good mystery novel and with Maureen Johnson at the helm, I know it'll be good. This is the first novel in this new trilogy, so if you're left with "WHAT?!?" at the end of the book, know that there is more to come.
The Wedding Date – Jasmine Guillory [Jan 30, 2018]
Fake wedding date turning into something a lot more is a trope that I LOVE in romance. Alexa Monroe agrees to be Drew Nichols' date to one of his ex's wedding. What could go wrong or right when these two high-powered professionals collide with one another?
The Wedding Date is Jasmine Guillory's debut novel. It's a novel that I've been hearing a lot about. A lot, and it's got me really excited! It's even been blurbed by Roxane Gay. Jasmine is currently working on the next book in this series, The Proposal, which is due out later in 2018.
This Will Be My Undoing – Morgan Jerkins [Jan 30, 2018] 
This collection of linked essays spotlights one of the fiercest critics writing today, Morgan Jerkins. Hightlighting Morgan's insightful commentary on pop culture, feminism, black history, misogyny, and racism interweaved with her experience of being a Black woman in the US today. This collection is a must read, for all women and men about what it is to be Black and a woman in the United States today.
I'm really looking forward to reading this book and learning more about intersectional feminism and the fight that Black women have been fighting for so long in the US for equal rights, equal access, and equal opportunities.
A Princess in Theory – Alyssa Cole [Feb 27, 2018]

Naledi Smith is a busy woman, balancing grad school and multiple jobs, she doesn't have times for the constant emails that claims she's betrothed to an African prince. Crown Prince Thabiso of Thesolo is carrying the hopes of his family and his people, and that means tracking down his missing bride who accidentally believes him to be a mere commoner. The chemistry between these two instant and is instantaneous and powerful, but what happens when the truth is revealed? Can a princess in theory become a princess ever after?
I'm a huge fan of Alyssa Cole. She is an absolutely brilliant writer and she's one of my favourite romance writers. I cannot wait to get my grubby hands on and read this book. The fact that we are actually going to get a royal wedding between Meghan Markle and Prince Harry this year makes this book even timelier. I can't wait to read it!
Children of Blood and Bone ­­– Tomi Adeyemi [Mar 6, 2018]
This is the debut novel from Tomi Adeyemi and brings to life the story of Zélie Adebola. Magic was once prevalent in Orïsha until it all changed when the ruthless king targeted and murdered all the maji of the land, including Zélie's mother. Zélie now has a chance to strike a blow against the monarchy and bring back magic to her land. But with danger lurking everywhere, will Zélie be able to get the revenge she so seeks?
This is another debut novel that I've heard a lot about and one that has really got me excited. I love fantasy novels, especially ones that involve magic and kickass heroines, and this book just checks all those boxes.
The Case for Jamie – Brittany Cavallaro [Mar 6, 2018] 
This is the final book of the Charlotte Holmes series and brings to end the story of Charlotte Holmes and Jamie Watson. Charlotte and Jamie finally face their longtime enemy and confront their true feelings for one another in this novel. Neither of them has spoken or seen one another since the jaw-dropping ending in The Last of August. That is until strange occurrences start befalling Jamie, that may be more sinister than they seem to be on the surface. Charlotte and Jamie fast the ultimate test in this final story, they've got to unravel the case of their lives without unravelling each other.
I became completely obsessed with the first two novels in this series last year and cannot wait to read this final novel. I've been patiently waiting for it since I finished The Last of August which left me going, "Wait…what just happened…did that really happen? OMG, when's the next book coming out?!?" I cannot wait to read the conclusion to Charlotte and Jamie's story.
Find Me – Courtney Milan [Updated: Aug 14, 2018]
Find Me is the third novel in the Cyclone series and the follow-up novel to Tina and Blake's story that began in Trade Me, which was the first novel in the series. Tina and Blake have spent the last year in love with one another and working on their relationship together. That is until Blake's previously unknown sister and the mother he's never met comes to light, throwing Blake and Tina's life into a tailspin. Is their happily ever after beginning to slip out of their grasp or can they fight for one another once again?
I absolutely and completely fell in love with Tina and Blake's story in Trade Me. I love, love, love Trade Me and my excitement for this novel is barely contained. However, the release date is completely tentative, Courtney herself has not released a publication date for this novel (this date actually comes from its iBooks listing) so there might be a long wait in 2018 for the release of this book.
Hurts To Love You – Alisha Rai [Mar 27, 2018]
This is the third book in Alisha Rai's Forbidden Hearts series, and I CANNOT WAIT! Evangeline Chandler has lived a sheltered life, she's an heiress, she's a Chandler, and she's got a secret. She's got the hots for Gabriel Hunter, who also totally has the hots for her. When wedding festivities forces the two of them into tight quarters, keeping their hands off each other becomes harder and harder. Flames spark, engulfing the two of them, but will long-buried secrets unearthed burn them both down?
I love, love, LOVE this series and cannot wait to see Eve and Gabe's love story come to life. I'm an Alisha Rai stan. There's nothing that she's written that I haven't completely fallen in love with and I know this book won't be an exception to that rule. I'm REALLY excited for this book.
Emergency Contact – Mary H. K. Choi [Mar 27, 2018]
For Penny, college is going to be the place where everything changes, a completely different life from the one she's leaving behind. She's going to become a writer. For Sam, this point of his life, working and sleeping in that same café, is just a chapter in his life where he's going to become a famous director. Penny and Sam collide into one another, they swap numbers and stay in touch, sharing their dreams and anxieties with one another, all without having to actually face one another.
Exploration and growth are essential parts of life for individuals in their late teens and early twenties, and that's where some have the most interesting and formative experiences an individual can have occur. I've heard a lot of good things about this novel and can't wait to read it.
Admission Requirement – Phoebe Wang [Mar 28, 2018]
This is the debut collection of poetry from Canadian writer Phoebe Wang. The poems address issues of internal conflict intrinsic to living in today's world. The speaker attempts to engage the reader, subsuming in histories and fieldwork.
I haven't heard too much about this debut collection but I am interested in reading more poetry and works by Canadian writers. The fact that it is a debut collection makes it all that more interesting to me. I love discovering new authors and their stories, especially women of colour writers.
Dread Nation – Justina Ireland [April 3, 2018]
Jane McKeene doesn't know a world where the dead do not wander the earth. She was born two days before the dead began to walk on the battlefields of Gettysburg and Chancellorsville, changing the United State of America forever. Jane is on the precipice of finishing her education at Miss Preston's School of Combat in Baltimore and becoming an Attendant, a protector of the well-to-do against the dead, and is set on returning home to Kentucky when talk or returning America to its glory days before the dead began to walk intensifies. When families began to go missing in Baltimore, Jane is dragged into a conspiracy, where the dead are the least of her worried as she is forced to fight for her life against some powerful enemies.
This entire book sounded amazing to me from the first moment I found out about it and I'm ecstatic for its release. The hype for this book is beginning to build and strengthen, and that's even more exciting. I haven't gotten a chance to read any of Justina's previous novels but I've heard great things about her writing. Also, who doesn't want to see a kickass African-American heroine take out some zombies and insidious established institutions?
Circe – Madeline Miller [April 10, 2018]
Circe, the daughter of Helios, is unlike anyone else in her family. She posses a power unlike any other, the power of witchcraft, that can transform rivals into monsters and wreak havoc on the gods. Banish to a deserted island by Zeus, Circe flourishes, honing her craft, battling wild beasts, and encountering some of the most famous figures in mythology Odysseus, anyone?). Danger, however, lurks all around for a woman who stands alone and torn between the world of the gods and mortals. Circe must once and for all decide whether she belongs with the gods that birthed her or the mortal world she has come to love and care for.
I am a huge, huge, huge fan of Greek mythology, I have been since I was a child and that fascination has never wavered. I'm always interested in reading retellings of Greek mythology, and this one definitely piqued my interest the moment I heard about it. Circe was always a fascinating figure in Greek mythology for me, as have many of the goddesses that populate Greek mythos. I'm really excited to dive into this story and see how Madeline Miller spun her own story around this ancient Greek myth.
Not That Bad – Roxane Gay [May 1, 2018] 
This collection of essays edited by Roxane Gay brings together original and previously published pieces that address the world that women live in today and what we as women face on a daily basis, from harassment, violence, and aggression in all its form, big or small, and what happens when we speak out against said harassment, violence, and aggression.
This is a deeply personal and unflinching collection and contains all the trigger warnings for abuse. Roxane Gay is arguably one the best writers of our generation, she holds nothing back, she's brutally honest and straightforward and isn't afraid to stand up against bullies and bigots. This is a must-read collection for me this year.
The Kiss Quotient – Helen Hoang [June 5, 2018]
Stella Lane is 30-years-old, thinks math is the universal unifier, has Asperger's, and thinks French kissing is like a shark getting its teeth cleaned by a pilot fish. Her conclusion, she needs practice, lots of it, and what better way to get it than hire a professional escort in the form of Michael Phan. Soon enough, this no-nonsense partnership begins to make sense, as feelings and desires begin to blossom, and a pattern emerges that'll help to convince Stella that love may be the best kind of logic.
Yes, yes, yes to more diverse and inclusive romances. This book popped up on my radar and immediately made it's way to my TBR list. I can't wait for it. This is Helen Hoang's debut novel and it looks fantastic!
A Thousand Beginnings and Endings – Ellen Oh and Elise Chapman [June 26, 2018]
The final book on my most anticipated books of 2018 is an anthology of 15 short stories reimaging East and Southeast Asian myths and legends written by some of the most acclaimed young adult writers today. From stories of meddling gods to star-crossed lovers to fake identities to family to stories of discoveries, transformations, and revenge, these stories will evoke centuries of Asian folklore for a new generation of readers. These are contemporary retellings of myths and legends that will beguile.
I'm completely and utterly beguiled by this anthology already and that's just on the basis of the cover of this book. I grew up listening to Chinese/Asian folklore and seeing this collection come to life, retelling East and Southeast Asian myths and legends in a contemporary sense just calls to me in some many different ways. I cannot, cannot wait to read this book and explore these myths and legends.
What are your most anticipated books of 2018? What books did I not mention that I should be adding to my TBR list?
Thanks for reading!